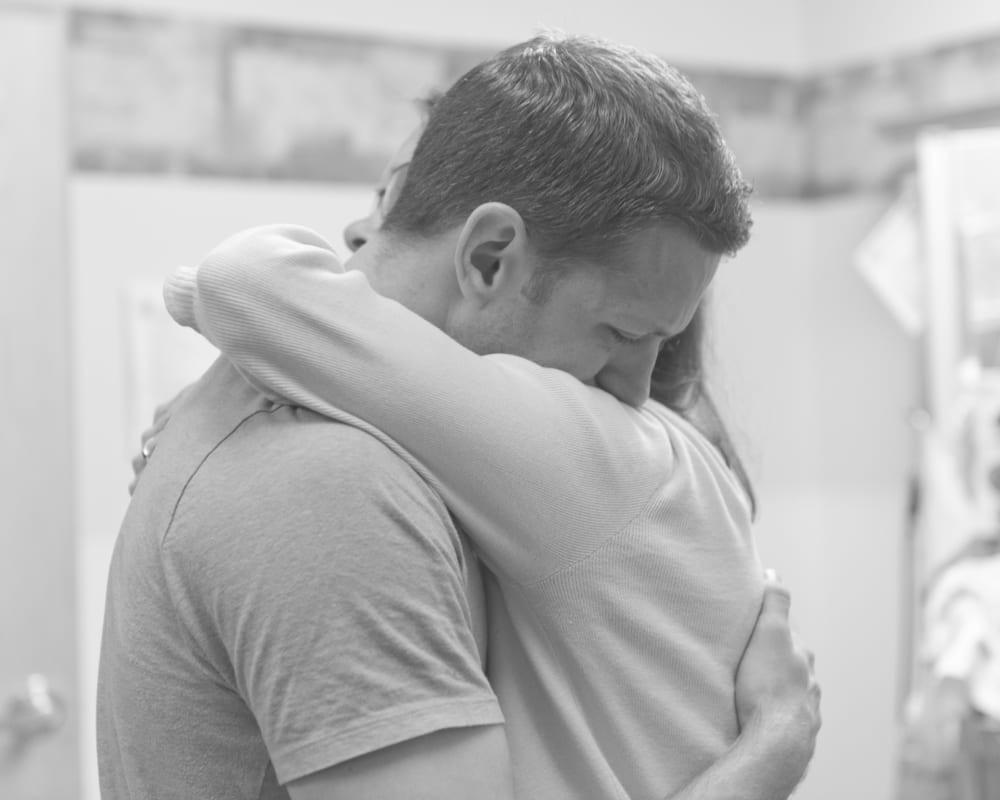 Postvention in Blekinge – Read in English below
Efterlevandestöd/Postvention är stöd till gruppen efterlevande. Det är en slags första-hjälpen till de närstående, till familjen. Ni kommer att ta er igenom den här chocken även om det från början inte känns så. Tidigt efterlevandestöd underlättar, inte bara under den första tiden, utan lägger en grund för att kunna prata om det svåra. Det ger på något sätt trygghet och hopp om att klara av att ta sig igenom det här att hela familjen samlas tillsammans med en utomstående som själv vet vad det handlar om.
Kontaktperson: Maiellen Stensmark Ring eller messa: 070-2900824, eller e-posta: [email protected]
Första hjälpen – Stöd och krishantering
I den chock man befinner sig i behöver familjegruppen återkommande stöd. Det underlättar sorgearbetet om hjälp kommer in mycket snart efter den närståendes död och att stödet ges av någon som själv har erfarenhet.
Tankar och känslor om hur det kunde sluta så här hanteras bäst när alla i familjen är samlade tillsammans med en utomstående med egen erfarenhet av självmordsförlust. Det kan lätta djup sorg, minska oro, känslor av självkritik och skuldkänslor, som är vanligt att närstående känner och istället ge kraft att finnas för varandra.
Genom olika faser i sorgen är det fint att få upprepat stöd, så tätt som ni önskar och på den plats ni önskar.
Vad dessa träffar inneburit för familjen i sorg
"Man får möjlighet att bearbeta sin egen sorg tillsammans. Ofta har man många frågor".
"När stödet kommer in direkt kan familjegruppen kännas som ett stort stöd. Det ger hopp om att själv kunna ta sig igenom sorgen. Det är också till stöd när man bor på olika platser" (man kan senare även vara med på länk).
Familjer har uttryckt att POSTVENTION "lett till ökad sammanhållning, på något sätt också minskat lidandet," också för dem med störst stödbehov. De som deltagit kan rekommendera efterlevande att ta kontakt med oss. "Det är skönt att få prata tillsammans", "att få prata om hur det är, inte känna sig skyldig, få vägledning, kunna se också utifrån andras perspektiv", "skönt att få insikt om hur resten av familjen mår, hur de förmår att hantera det som hänt". "Det har varit mycket bra och har gett bekräftelse i sorgen."
Tidigt efterlevandestöd behövs för alla
Krisstöd behöver ges i samverkan med kommunens krisgrupp, distriktsläkare och polisen och ges av person med egen erfarenhet av att en närstående tagit sitt liv. Det blir en debriefing. Det behöver man också ha t.ex. på arbetsplatser. Ett självmord är en katastrof för hela samhället. Många fler är djupt berörda.
Postvention är stöd i de närståendes lidande. Det är en viktig angelägenhet för hela samhället. Stödet leder till minskat lidande och minskade kostnader för samhället både på lång och kort sikt.
Sorgeprocessen i fokus. Med hjälp av utomstående, med levd erfarenhet, ges efterlevande tips om hur man lindrar smärtan. Samspelet mellan de närstående betyder mycket. Tankar om skuld, känslor av skam kan annars försvåra sorgebearbetningen.
Efterlevandesorg kan utveckla behov av terapi för posttraumatiska tillstånd, ge utökat lidande för efterlevande, med stort personligt lidande och stora kostnader för samhället om inte rätt stöd sätts in mycket snart efter en förlust.
I samtalen kommer det efter ett tag fram vad som gick fel, vilka faktorer det var som tillsammans bidrog till att en människa tagit till liv. Vad kunde ha gjorts, eller funnits, som hade förhindrat i form av samhälleliga förebyggande och uppföljande insatser, som kunde ha räddat liv? Det är sådant som efter en tid behöver fångas upp i den händelseanalys som samhället behöver göra, där närstående ska kunna lämna sina tankar runt det inträffande.
Samhället fungerar inte alltid för drabbade vid självmordskris och det behövs krafttag för att en människa i livskris inte ska ta sitt liv. Det är av högsta vikt att vi hjälps åt att man i varje län strukturerar stöd för livet för människor som är självmordsnära och ger direkt efterlevandestöd, som är ett tidigt skydd för livet enligt forskning* för alla som drabbas, oavsett var man bor i landet. (Källa www.e-llipse.com). Efterlevande utan stöd kan själva befinna sig i riskzon för att ta sitt liv.
Om du varit med om en närståendes död behöver du vara extra observant på dig själv och dem i din omgivning. TA EMOT STÖD OCH HJÄLP! Vid akut självmordskris ring 112.
About Postvention in English
Här nedan följer en förklaring om vad Postvention är, på engelska (Källa: Ellipse Gatekeeper+ Utbildningsprogram 08.POSTVENTION.)
Ellipse-projektet deltog digitalt i Europeiska Psykiatriska Associationens konferens i Florens 10-13/4 2021.
Maiellen Stensmark: Varför det är viktigt att involvera människor med levd erfarenhet i utvecklingen av utbildningar i suicidprevention, under temat Onlineutbildning i suicidprevention inom högre utbildning i Europa. Det går också att lyssna till föredraget per länk.
Blekinge Family Postvention – early home support & peer-group support for families bereaved by suicide loss
Blekinge Family Postvention is a model based on the grief facilitator-home-visiting postvention giving the early support to the families after they lost their member in suicide. Blekinge Family Postvention model was created and first used in 2015 by a Swedish teacher, Maiellen Stensmark. She lost her daughter in suicide. Maiellen helps other families, so they could avoid the disastrous negativity that often comes with a suicide loss. It is often associated with the disturbance in communicating after the suicide loss. Maiellen noticed that her method of giving early support to suicide loss survivors is helping families to overcome pain, anger and suffering. Suicide loss survivors families find Maiellen through the association SPES Blekinge online. She is saying: "I am their doula". There is no research about Blekinge Family Postvention, but there is research showing that being in contact with others has a protective effect in crisis. Gruber et al., 2013 found out that "doula-assisted mothers were four times less likely to have a low birth weight baby and two times less likely to experience a birth complication". They suggested that "communication with and encouragement from a doula throughout the pregnancy may have increased the mother's self-efficacy regarding her ability to impact her pregnancy outcomes". Hans et al., 2018 noticed that "home-visiting programs have shown health impacts in the postpartum months after birth, incorporating doula services may confer additional health benefits to families". Similarly, during a period after a suicide loss, support of the "grief facilitator" may increase the self-efficacy of the family in dealing with their trauma.
A person who provides such early support for the family in trauma should have experience of coping with the suicide loss and applying strategies for that. Frequent conversations need to be given to the family members, during the first 3-5 weeks or longer, after the suicide loss. To talk and listen to each other, provide the family members strength-the intensity of pain and suffering decreases.
When a suicide has taken place, the grief facilitator goes home to the family in crises, to give support and create a safe space for grief and suffering. They are crying and helping each other. They need to deal with the chaos that continuously will occupy their senses, day and night, without a break, in the form of mental chatter, emotions of deep anxiety, panic and guilt. It is a crippling state of unreality and severe pain. They calm down their feelings by telling what is hurting, in what way their inner pictures, their thoughts, are challenging to bear. They share their memories and experiences from the last time they met the recently deceased. They talk about their grief, their thoughts and feelings. They tell if they can sleep and eat. We speak about the importance to breathe through the pain and the state of anxiety. We are sitting in the living room, listening to their experience, their feelings and thoughts. We speak about how one can handle themselves, let in light, again do things they liked to do before the suicide and slowly come back to the normal. It helps them carry each other, listen to each other, put together a puzzle and begin to understand and take in what happened. A grief facilitator goes home to the family, every second or third day, as many times as they ask for, to the place they chose. One and a half hour each time, depending on how many people they are. It takes time to recover from grief after suicide loss.
The support to the family after suicide loss should be a governmental matter. But today all the work done, is voluntary. The close relatives need debriefing right after the district doctor has stated the death, or the police have issued a death certificate. The military, the police, rescue services and healthcare professionals gets debriefing when a rescue operation has failed. Survivor support needs to be provided, to reduce suffering and diminish risks for the post-traumatic stress disorder and depression, and in this way, to decrease a need for medicines. Medicine is not a cure for grief. To gather the whole family, all the closest mourners allow them to mourn altogether, under the guidance of the facilitator. It gives hope!
References:
Gruber, K. J., Cupito, S. H., & Dobson, C. F. (2013). Impact of doulas on healthy birth outcomes. The Journal of perinatal education, 22(1), 49-58. https://doi.org/10.1891/1058-1243.22.1.49
Hans, S. L., Edwards, R. C., & Zhang, Y. (2018). Randomized controlled trial of doula-home-visiting services: impact on maternal and infant health. Maternal and Child Health Journal, 22(1), 105-113.
Participation of ELLIPSE in European Psychiatric Association in Florens – at zoom – 10-13/4 2021
European Psychiatric Association har konferens i Florens 10-13 april 2021. Där är vi med från Erasmus+projektet ELLIPSE, www.e-llipse.com. Mitt tal om Varför det är viktigt att involvera människor med levd erfarenhet i utvecklingen av utbildningar i suicidprevention, under temat Onlineutbildning i suicidprevention inom högre utbildning i Europa, kan du läsa på engelska nedan och ta del av genom denna länk
I am Maiellen Stensmark. I am voluntarily working in an association to prevent suicide and support those who have got a suicidal loss. In our region, we voluntarily invite people with a suicidal loss to our group once a month, by the organization SPES Blekinge. But people hardly find us. Many have doubts about going there themselves, taking this step to meet others with grief. I saw the suffering, deep pain, and questions nobody answered. Like in my case, when I lost my daughter. She committed suicide in 2004, at 21 years old. There wasn't any help at all to receive. Neither today, 2021, and it is very hard for me to face when we have resources to prevent suicide in Sweden.
I have developed a family support model by meetings with the bereaved group directly after the suicide, giving families, close friends, and sometimes neighbors in loss a supportive environment. Every case is different concerning the group of mourners. I started with this work in 2015. This method of mine is based on the experience I have achieved as a facilitator. I have met approximately twenty families, with an average of 5-7 persons each.
It is important to involve people with lived experience after a suicide loss in educational programs for students in higher education to teach young people to give proper help and support to all those who lost someone in suicide.
"Approximately one in 20 people (4.3%) experienced suicide in one year, and one in five (21.8%) have done so during their lifetime".
Andriessen K, Rahman B, Draper B, Dudley M, Mitchel PB. Prevalence of exposure to suicide: a meta-analysis of population-based studies. J Psychiatr Res. 2017;88:113-20
A suicide researcher, Karl Andriessen, tells also that:
"People bereaved by suicide may experience more shock or trauma related to the unexpected or violent nature of death compared to other forms of bereaving, more feelings of abandonment, rejection, shame, struggle with meaning-making and 'why'-questions, and less social support".
Postvention in Blekinge is, similarly to Karl Andriessen's description, the promising supportive and educational intervention, that involves the bereaved social environment, and comprises sessions led by a trained facilitator.
We usually meet at least six times during 5-6 weeks. After these weeks, some of the mourners want to maintain our contact. The benefit of this is sharing within the group to lower the stress. I encourage them by listening and confirming their grief, emphasizing the importance of sleeping, eating, and drinking. I ask, more or less, the same question to all of them about these issues. I tell them how important it is for them to explain how they feel to each other. And by our talk, this stress reduces. All this is about handling the chock, lower panic, and instead helping them bear each other.
I explain that stress after this loss is better not to overanalyze mentally to avoid a more chaotic mental situation. It is good to talk about it when they are together, or with help from a facilitator or therapist.
I explain to them that in my experience, the best way to let free of emotions is by crying, and laughing, but also screaming loud out when others do not hear. It is the only sound way of letting free emotions. One can also write down his/her feelings and put the note in a box until he/she is strong enough to read it through and one more time meet the experienced feelings and mental situation.
I can understand what they have been through between the lines, what happened before death and how they found the deceased. When they are ready, we can talk about it, but I never push them. They can get a more comprehensive picture of what happened, why, about how life could end in this way, by talking to a facilitator, everyone together, at the same time, in the same room. They describe it by showing their emotions, and explaining what they have experienced. It is also a way of reducing shame and guilt and helping them to calm down emotionally. As a result, mental stress reduces.
I educate them to replace grief, feelings, and thoughts and to occupy themselves, their brains, doing other things. That brings them emotions of good feelings and satisfaction even if they are in grief.
We meet in this way during 3-5 weeks and much longer with those how to wish that.
I have met some people on a more or less regular basis for years after their loss. Some want to come to the monthly meetings to handle their grief with others also suffering from suicidal loss. In the Ellipse program, we interviewed the participants with and without participating in a Family Postvention group. Those who suffer a heavy loss, like after a suicide, thought that participation in the Family Postvention could help them to recover.
Based on my experiences, I would like to suggest that every region in Europe develops emergency care after suicide. Facilitators have an exceptional opportunity to support bereaved families by understanding suicidal loss and after education about their role. That is why it is important to involve people with bereaved experience in developing educational programs in suicide prevention.
It is also a winning concept for us with deep grief after suicide. We transform our loss to be helpful to others. We can save lives, reduce victims of suicide, reduce suffering, reduce the need for medication, and reduce the period of deep grief after suicide.
Suicide loss is not an illness but may become lifelong grief. Therefore facilitator's support must be initiated very soon after the loss. If not, in some months' time, the need for medicinal treatment is evident. Also, persons coming to healthcare right after the loss are given medication as treatments that do not reduce their grief because medicins can't lift this emotional condition. The bereaved people can also live their lives in love and good health when they learn how to cope with their grief. That is why it is so important to learn how to help them.