About Spes
Riksförbundet Spes is a nonprofit organisation working to prevent suicide and to support survivors of suicide loss since 1987. We have just above 100 volunteers who all have in common the trauma of losing a loved one to suicide. An experience that becomes a valuable asset in understanding and supporting other survivors. Spes is Latin and means hope.
Spes is available throughout the country working at a local, regional, national and international level with the support, information and towards attitude changes. We can do this through our contacts, helpline, education, meetings and self-help groups.
We contribute to increased knowledge about suicide as a social and public health problem and counteract prejudices and taboos. We aim to reduce the taboo and shame around issues dealing with mental illness and its ultimate consequence – that someone take their life. We work to influence and collaborate with local governments to fulfill the assumed health statement on zero tolerance for suicide. Spes have a regular interaction and contact with a number of national organisations and authorities.
Spes provides support in grief
The helpline is staffed by our specially experienced and skilled Spes members. It is beneficial to talk with someone who has similar experience.
There is always someone to talk to on the helpline. It is open every evening between 7 PM to 10 PM. The phone number is 020 – 18 18 00. We need each other because it is only we who understand, who can support each other no matter how many years have passed since the day it happened. We have experienced grief, loss and the pain in our reality.
Our mission
To contribute to increased knowledge about suicide as social and public health problems and counteract prejudices and taboos.
Support us
Your gift provides support for life! Swish 900 76 67. Thank you for your kind support.
Broschure about grief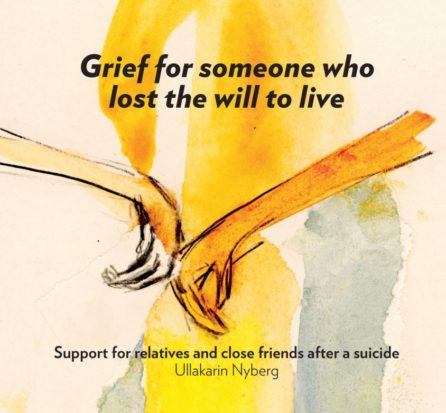 Handbook for survivors of suicide loss
This is a book for people who have lost a loved one to suicide, written by someone who has suffered
the same loss.